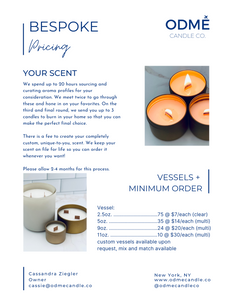 We spend 20-30 hours discovering your ultimate scent desires, and researching, sourcing and curating aroma profiles for your consideration. After completing our scent quiz we develop up to 15 profiles to smell together. We'll meet twice to tweak and hone in on your favorites and after the second round we send you up to three candles to burn and test in the comfort of your home to make a final choice. When your scent selection is finalized we begin the process of creating your candles and deliver them in time for your perfect occasion.

We keep your scent profile on file for life and you can order it for anytime you'd like.
Please allow 2-4 months for this process.
Purchasing this experience as a gift? We have gift cards available here.